It is hard to believe that the holidays are upon us – where did the time go? For many people, along with the excitement of the season, comes the dread of spending money that they may or may not have. Everyone wants to buy that perfect present, but when money is tight, it is kind of a letdown.
I am fortunate to have my family nearby, but for those who travel to see their friends and families for the holidays, this can also be stressful, as the cost of gas (as we all know!) is through the roof. Airlines have gotten more expensive, and it is sometimes hard to find a hotel at a good rate (if you can't stay with friends and family).
Luckily these days it is easier to find discounts for holiday shopping (thanks to the internet!). I love the comfort of shopping from home, and to save a little money, I subscribe to the newsletters of the places that I purchase from most often, so I can hear about their sales. Waiting for something to go on sale is a great way to save money and if you couple that with coupons, discount codes and other promotions, you can really bring the price down of your purchases. Of course you can always take advantage of Cyber Monday (or Black Friday if you like that kind of thing), where you can find some great deals, but what if it just isn't enough?
What is a person to do, when they have things to buy and places to go, but money is tight?
H&R Block's Emerald Advance service, folks may be eligible for up to $1,000 without having to jump through lots of hoops. People can apply starting November 19th and receive their cash advance in time for the holidays. Whether they use Emerald Advance to cover holiday gifts or travel expenses to spend time with family over the holidays, people can feel good about relying on a financial expert they can trust all year – so they can do more celebrating and less worrying!
The H & R Block Emerald Advance program sounds super easy! Starting November 19th, you can apply to get up to $1000 cash in time for the holidays. All you need to apply is a valid photo ID and your most recent pay stub (no W2 form required!). You don't already need to be an H&R Block client to apply. I haven't personally used this, but if I were to get an advance, I believe this is one I would feel comfortable with trying.
Please note that the application process will not open until Monday November 19th.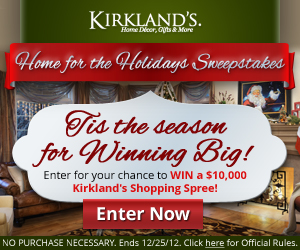 What are your plans this holiday season? Are you stressing out about your budget? How would H & R Block Emerald Advance help you and your family? Tell me when you enter the giveaway below!
THE GIVEAWAY:
One (1) winner will win a $300 Amex Gift Card!
Open to US only, ends 11/30/12.
Visit H & R Emerald Advance here, for required entry.
*I was not compensated for this post. The prize will be provided by H&R Block and will be shipped to the winner by DEI/H&R Block, but H&R Block is not a sponsor, administrator, or involved in any other way with this giveaway. All opinions expressed in the post are my own and not those of H&R Block. Entrants must be 18 or older and located in the US only. Winner to be chosen at random.